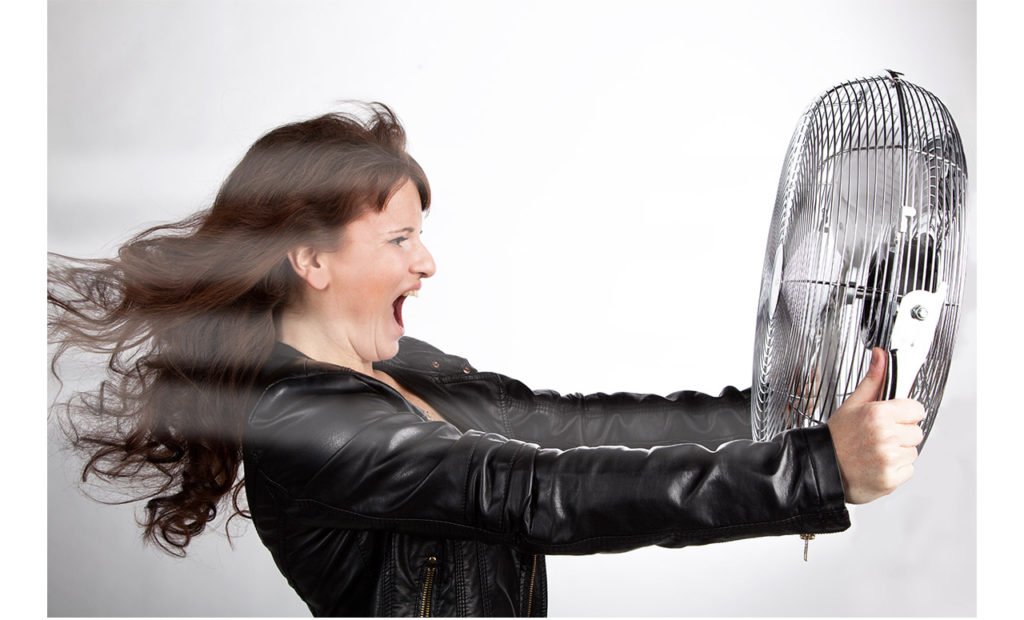 [By Brenda Avadian]
Imagine getting a hot flash while struggling to assist your mother with dementia to use the toilet.
As you hold her and lower her slowly onto the toilet seat, the fear of falling grips her and she lashes out. Meanwhile, the stressful experience makes you feel like you're burning up until you begin sweating.
Trying to care for a combative and confused person can be risky, especially when menopausal symptoms strike.
It is challenging enough being a caregiver for a cognitively impaired loved one, let alone managing the nauseating, claustrophobic, anxious feelings that often accompany a hot flash and sweats.
What if your care recipient slips from your arms while you're sweating?
What if your personal summer is more like Death Valley in August?
What if you can't stand it any more and do something you'll regret?
How do we manage our menopausal symptoms while caring for a loved one?
1. Talk about your symptoms.
Thanks to a more accepting society about our body's natural functions, it is no longer taboo to talk about our symptoms openly as it was in prior generations. As a child, I remember hearing the word delicate a lot. Delicate described PMS, menses, discomfort during pregnancy, and hot flashes.  Did you notice that these are labels for female symptoms?
At least, we women have a successful musical acknowledging our symptoms. The memorable line from Menopause The Musical* brings smiles to all women of a certain age. I'm getting a hot flaaassh!
After a lifetime of cold nose, cold hands, and cold feet (but definitely a warm heart), I welcomed the early symptoms of peri-menopause at age forty-five, when my hormones kicked in and warmed me naturally.

Over the years, those gentle warming trends gave way to desert heat and even the rain forest as peri-menopause morphed into full-blown hot flashes and sweats.
Talking about our symptoms not only releases us from experiencing them alone but allows us to take another step in managing our symptoms while caring for a loved one. But first, we need to do the following.
Recognize when a hot flash is about to occur.
The longer we live with these symptoms, the better we get at recognizing the tell-tale signs. My husband will tell me, "You're going to get hot soon." How can he tell? My face flushes or gets red. On the other hand, I can usually feel a hot flash coming when I experience something negative or stressful. Soon I'm burning up and then getting wet with sweat.
To survive these, I try to look at the positives. When a hot flash strikes in the winter, who else but us women can feel comforted by standing in the middle of a blustery ice storm wearing nothing more than a pair of shorts and a tank top? I say, "Bring it on!"
To better manage our symptoms while caregiving, we need to take this next step.
Ask for help.
Talking about our symptoms and recognizing when they appear are two steps to being able to deal with our own bodily symptoms in order to focus on providing quality care for our loved ones. And when we do burn up and those beads of sweat cause us to be uncomfortably slippery, we can ask for help and those around us will have heard us talk about it before and step in as we lose our cool.

But what if we're alone?
Step away from caregiving for a moment.
If we have no support nearby to take control when we are caregiving, then we need to step away. In as little as five minutes, we can feel refreshed and return in a better state of mind. This makes all the difference between doing something we regret versus lovingly caring for our family member with dementia.
There you have it. Four steps to coping with menopausal hot flashes and sweats while caregiving. Don't get angry or say or do something you'll regret. Instead, learn to recognize and talk about your symptoms, ask for help, and if all else fails and you're about to lose your cool, step away!
*Menopause The Musical – http://www.menopausethemusical.com/
Brenda Avadian, MA, of TheCaregiversVoice.com, is an award-winning speaker who serves as a national spokesperson for family and professional caregivers. She is an author of eight books. Having cared for her late father who had Alzheimer's and even caring for geriatric cats (currently one lives with FIV and lymphoma), she brings hope and strength to caregivers around the world through knowledge, support, and tears of joy. As one who's been in their shoes, caregivers invite her coaching on how to survive, thrive, and find the joy in caregiving. SIGN-UP for The Caregiver's Voice monthly newsletter.

Read related article here: http://www.thecaregiversvoice.com/latest-news/aging-why-are-we-so-afraid-of-it/
Article Source: 4 Steps to Manage Menopause and Caregiving